Guest Rooms & Suites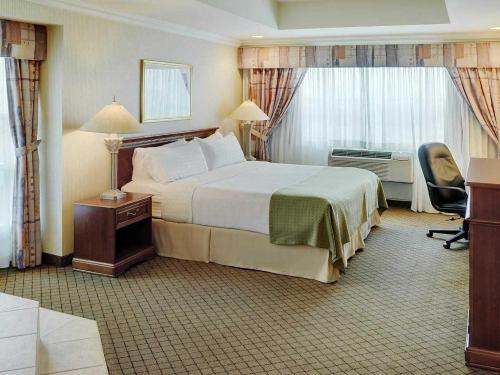 It's possible to love a hotel bed. Our comfortable beds are complemented with new crisp, white linens and a selection of pillows that are individually marked "soft" or "firm." Our bathroom experience features an enhanced showerhead with superior water pressure, curved shower rod and new shower curtain for a spacious, fresh feel. And we know you'll love our premium bath products.
See More
Pool & Recreation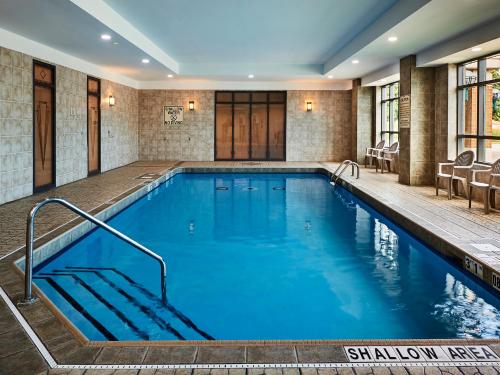 At 
Holiday Inn & Suites Oakville @ Bronte
 we believe that a hotel is more than just a place to sleep at night, but a home away from home. In order to provide you with all the comfort and convenience you deserve, we go out of our way to not only provide you with all the amenities you would enjoy at home, but the extra luxuries to make your stay the best.
See More
Holiday Inn & Suites Oakville @ Bronte
 helps you stay connected with our 24 hour complimentary business centre. We are pleased to offer a wide variety of services and amenities in each of our guestrooms. For our business guests, in-room ergonomic work desks, equipped with lamps, power points and easy to use complimentary access to high-speed internet and wireless services, to allow you to stay connected. All of our guest rooms also feature direct dial phone lines, making it easier for people to reach you in your room.
See More
Lost & Found
All items found in our guest rooms or public areas of the hotel are logged and stored in our Housekeeping Department. If any of your belongings have been lost or forgotten during your stay, please contact the Housekeeping Department at 905-847-1000, Ext. 6109. In order to properly identify the item(s) you will be asked to provide a detailed description, room number, date of checkout and distinguishing features of the lost item. Shipping and mailing of the lost and found item will be at the expense of the owner. If you have someone picking up an item for you, please provide us with their name and ensure they have valid photo ID when picking up the item. The hotel does not bear responsibility for any lost or forgotten items.