Christmas Day Brunch
The holiday season is all about family, friends, festivities of the season and great food. Join us at the Holiday Inn Oakville @ Bronte for our annual Christmas Day Brunch on Wednesday December 25, 2019.
Christmas Day Brunch Menu
Assorted Fresh Juices.
Assorted Breakfast Breads and Danish ,
Individual Low Fat Yogurts, Carved Fruit Display
Farmers Sausage, Canadian Bacon, Home Fried Potato
Waffle Station
Variety of Festive Salads,
Domestic and Imported Cheese Board
Chef's Kettle featuring Cream of Broccoli Soup
Carving Station Featuring:
Roasted Angus Sirloin of Beef with ,
Homemade Yorkshire Pudding
Roast Ontario Turkey With All the Trimmings,
Roasted Yellow Yukon Mashed Potato ,
Oven Cooked Marinated Mixed Vegetables
Steamed Basa Fish with Lime and Soya Dressing
Cheese Tortellini Pasta with Grilled Vegetable
and Sundried Pesto Sauce
Butter Chicken, Garlic Naan Bread,
Tempered Coconut Rice Pilaf
Chefs Festive Dessert Table
Cash Bar Available
Wednesday December 25th, 2019
Adults $49.95 Seniors $42.95, Children 3-10 $25.95
Children under 3 no charge
Prices are per person, plus applicable taxes and gratuities
11:00am to 2:00pm
Call the Holiday Hotline at 905-465-4480 to make Reservations
Credit Card Guarantee Required at Time of Reservation
48 Hour Cancellation Policy Applies
Christmas Day Dinner - Marquis Bistro Restaurant
Celebrate the season with us! Friends and family can enjoy a three course Christmas Day Dinner in the Marquis Bistro Restaurant. Dinner is served 5:30 to 9:30 and reservations are recommended. Call the holiday hotline at 905-465-4480
Salads (Choose One)
Caesar Salad
Spring Mix Salad with your choice of Dressing
Entree (Choose One)
Roast Ontario Turkey With All the Trimmings
Glazed Citrus Salmon with Yellow Yukon Mashed Potato and Steamed Broccoli
Roasted Angus Sirloin of Beef with Red Skinned Potatoes and Seasonal Vegetables
Dessert (Choose One)
Chocolate Truffle Cake
Coffee or Tea
Adults $29.95, Children 3-10 $18.95, no charge for children under 3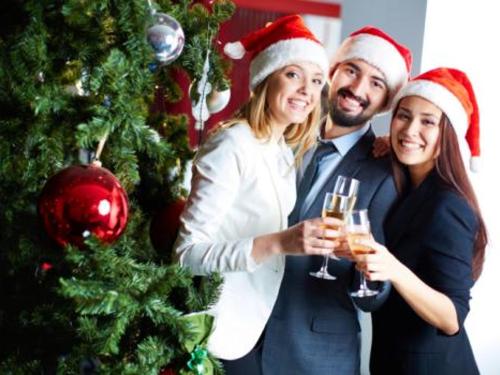 Book your Holiday Party Today.
Great function space is still available for your holiday party. Celebrate the season with a festive dinner buffet or a three course plated dinner or bring friends and co-workers for a seasonal holiday lunch buffet. You'll find everything to plan the perfect Holiday get together. Call our Catering hotline at 905-45-4478 to reserve today.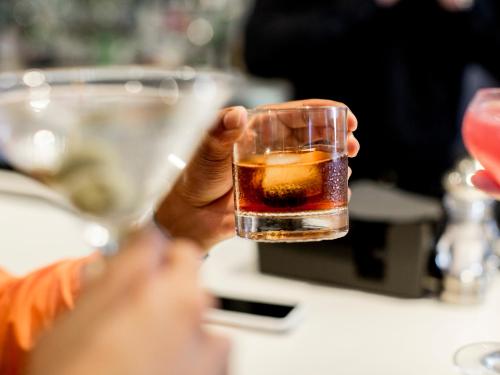 Take the Elevator Home
Take the Elevator Home with our Seasonal Holiday Rates!
Standard Rooms Starting at $115.00 per night, plus taxes
Call our Reservations Department at 905-847-1000
Some restrictions may apply, Rate are based on availability.
Ask for the Holiday Rate!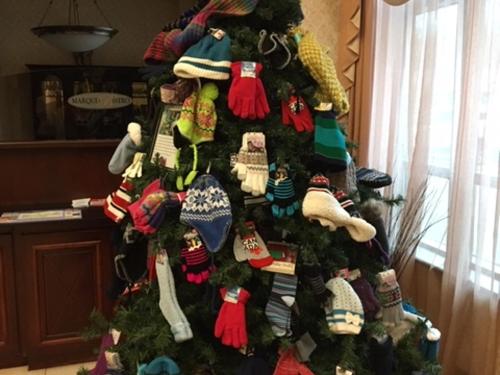 Warming Hearts and Hands This Christmas
Each year the Holiday Inn Bronte decorates our Tree of Warmth with hats, mitts, scarves and socks for those in need during the winter months. Our tree will be up and ready for decorating on November 12, 2019 Come in and see the tree in our lobby and help decorate it for those less
fortunate over the cold winter months.